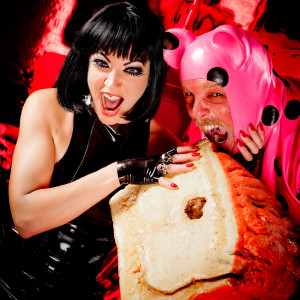 I had the privilege of spending some time with Jean Bardot in Florida at the Fort Lauderdale Fetish Factory Memorial Day Weekend. I did a little partying with her crew (Fucking Gerry above) which included TOGS, slaves, TV's and a newly married couple of friends.
Not only did I see her wearing rubber at every occasion over the weekend but she was also running around recording interviews for her channel the Jean Bardot Show. Paired with husband Luke, they are a dynamic team, as he is the very accomplished photographer, Soul Focus.
Jean is a self-proclaimed rubber loving Mistress, model, actress, performer, educator and presenter.  She travels internationally for all of the above and has performed at the Torture Garden too. WOW – one hard working latex lover.
I first heard about her when Jean performed as Rubberella http://www.latexwiki.com/index.php?title=Rubberella
She's a star, her light shines brightly, which is why I thought you should all know about this Minneapolis, USA beauty.
Site: http://jeanbardot.com/
Twitter: https://twitter.com/jeanbardot
Facebook: https://www.facebook.com/thejeanbardotshow/
Youtube: https://www.youtube.com/jeanbardot
The next Rubber Cult is on Oct 7th 2017. It is also part of the London Fetish Weekend.
Miss KIM x
Photographer credit on photo.